Where I'm from, the birds sing a pretty song, and there's always music in the air, but even still, consider this the most euphonious sound of all: Showtime has announced that the seminal show, often imitated but never duplicated, will air sometime in early 2016,  twenty-five years after ABC cancelled it in 1991.  I'd say I'm surprised, but then again, I think David Lynch, the maestro of the surreal himself, has planned this from the outset.  Don't believe me?  Well, then I guess you don't remember the season two (no longer series–holy cow) finale: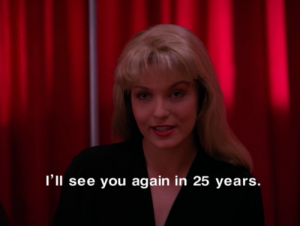 Yup, that's Laura Palmer in the Black Lodge talking to Cooper in the series finale.  Just saying.  Oh my God, you guys….Is David Lynch a wizard?
Just a few days ago, on October 3rd, Twin Peaks creators Mark Frost and  Lynch took to Twitter with a cryptic tweet that sent rabid fans such as myself into a veritable frenzy.  Simultaneously, the two tweeted: "Dear Twitter friends: That gum you like is going to come back in style! #damngoodcoffee."  Little did we know that this message would translate, like a fish in a percolator, into such a delightful surprise as a nine-episode limited series order.  The scripts, all penned by Frost and Lynch, will continue the story and take place in the present day and feature a collection of characters new and familiar.  No definitive casting announcements have been made, but Kyle MacLachlan has hinted at his own return on Twitter today following the report of the Twin Peaks revival: "Better fire up that percolator and find my black suit. 🙂 #Twinpeaks" I don't know about you, but that sure sounds like a confirmation to me, but expect definitive news of his involvement to be forthcoming.  #howsannie
Suffice it to say that this news changes the game for TV.  In a recent interview, Lynch postulated that television has surpassed cinema and become the new art house, citing shows like True Detective as evidence of the medium's artistic prominence.  Upon its initial airing, Twin Peaks was like nothing else on television, ahead of its time in innumerable ways; since, however, its impact has resonated profoundly and helped to establish a platform wherein anything goes.  And with those possibilities at Lynch's disposal, there's no telling where he'll take us, though it will no doubt be a place both wonderful and strange.  I absolutely cannot wait!  That ethereal score!  Those quirky characters!  That dream-logic mythology!  Donuts!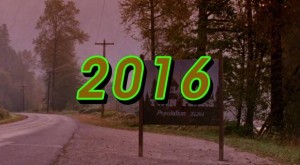 Oh…I forgot to tell you something.  Leading up to the premiere, Showtime plans to air the original thirty episodes of the series to prepare fans for what's in store.  Now grab your oven mitts, pick up a bucket full of rocks, and let the speculation begin!  2016 can't get here soon enough!