Lucky number 15, folks!  "Why lucky?" you ask.  Well, that's simple: Kevin Bacon.  That's right, each season of the departed series The Following clocked in at fifteen episodes per, and I think we can all agree how lucky we are that that show is no longer spouting off its brand of cult-flavored nonsense despite the fact that we all secretly hate-watched the bejesus out of it.
Don't worry, my fifteenth favorite show of 2015 is not The Following.  But Ryan Hardy, am I right?  If I were handing out an award for Best Cop (Whose Incompetence Would Have Assured His Termination) of the Year, then The Following would have topped the list.  But, unfortunately, the Creative Emmys aren't for several months yet.
Shall we continue?
#15: Hannibal
When you weren't looking, Bryan Fuller's Hannibal became the most romantic series on television.  Sure, the romantic leads at the heart of it were troubled empath Will Graham (an outstanding Hugh Dancy) and brilliant psychopath Hannibal Lecter (an all-time classic performance from Mads Mikkelsen), but in its third and final season, we finally realized just how much these two meant to each other.  Neither Will nor Hannibal would ever find someone else who could love them for who they were, and yet in each other, they found just that.  It was beautiful, violent, and deeply, deeply disturbing, but dammit it all felt — from its rich color palette to its surrealistic dream imagery — so incredibly romantic.
The show was always at its best when it used Thomas Harris's novels as the springboard to its story rather than adhering to them as a strict adaptation, and that riffing reached new heights in its third season, inverting the order of the novels Hannibal and Red Dragon to tell a story of Hannibal Lecter and Will Graham gravitating toward one another once again — as if they ever had a choice.  All it took was Francis Dolarhyde to bring them together.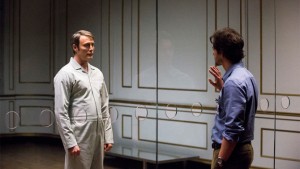 I still say that Hannibal will go down as the most violent series I've ever watched — either on network or cable — so we've got to give credit to NBC for allowing Fuller to do his twisted thing.  Never has horrific violence been depicted with such an eye for the beauty within it, the balletic tango between life and death so artfully displayed week in and week out.  Sure, it's not for everyone, but for those of us trapped under its spell, there was nothing like it.  Dare I say, we won't see anything like it for quite some time.
Hey, what're you doing tomorrow?  Jk, I already know: waiting on tenterhooks until I post the fourteenth best show of 2015.  #top20in20