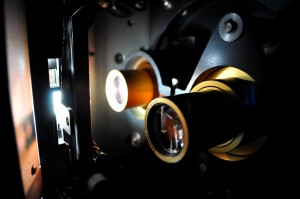 Culling a list of the year's best films has proven consistently difficult because, until now, I never paused to reflect on what, for me, makes a movie a true "best of" contender.  Was it pure entertainment value?  Unimpeachably quality craftsmanship?   A combination of the two?  Lists such as these can't help but be arbitrary because each critic–whether amateur or professional–has a different take on what qualities contribute to a film's top ten status.
It certainly didn't help that I had an absolute overabundance of films from which to choose.  Seriously, what an incredible year!  At first, in the face of so many possibilities, the task daunted me.  How could I select the best of all these films?  Finally, I settled on a definitive criterion, a simple measurement that encapsulates what elevates any true work of art: the film had to leave a lasting impression on me and refuse to allow me to shake it.
You won't agree with all of my choices, and I could have tinkered with this list until next year's Oscars.  So many greats didn't make the final cut. Scorsese's Wolf of Wall Street is one helluva wild ride, and I loved every drop of excess; it didn't land in my top ten.  Dallas Buyers Club featured two of the best performances in contemporary cinema; you won't find it on my list.  Saving Mr. Banks engaged me and moved me profoundly; its critical derision is unwarranted, and I will defend it for years to come, but it didn't linger with me quite as vividly as others did.  Those are just three examples of outstanding films narrowly ousted by their competitors.  In any other year, I would have been proud to include them on my list.
So, here are the movies that moved me, that challenged me, that humored me, that haunted me.  These are the films I couldn't shake: the best of 2013.
10) (tie) The Way, Way Back AND The Spectacular Now
Two quintessential coming of age stories.  I couldn't pick between them, and you can't make me.  Allison Janey and Sam Rockwell did career-defining work in Way, Way Back while Miles Teller's performance in Spectacular Now proved career-making.   Any of these three would have been delightful, bold Oscar picks.  (But bold Oscar is a bit of an oxymoron these days, no?) But even more than the performances, both are beautiful paeans to the messy, awkward, and wistful days of burgeoning adulthood.
9) Philomena
Trust me, no one is more surprised than I am that Stephen Frears' little British indie found its way into my top ten, but I just can't let go of this movie.  Steve Coogan's script, buoyed by a dynamite turn from himself and a mesmerizing one by Judi Dench, is funny and emotionally resonant in equal doses.  Philomena's story is an indictment of a corrupt system, but it's so much more than that: it's a tale of friendship, of motherhood, of redemption.  Also, Judi Dench waxes poetic about her lady bits, an odd theme in my top ten come to think of it (more on that later).  Sometimes, movies come out of left field and sneak up on us if we let them.  For me, that's Philomena.
8) Fruitvale Station
First-time feature film director Ryan Coogler turned what could have been little more than a token cinematic tribute to the life and death of Oscar Grant III, a 22-year old killed by a police officer on a subway platform, into a positively galvanizing social commentary.  Michael B. Jordan is brilliant, refusing to turn Grant into a martyr or make him a symbol for any cause.  By exposing his foibles, Jordan shows us the tragedy of the man, making for a more intimate and powerful story.  This movie pinned me to my seat when I saw it this summer, and it hasn't left my mind since.
7) Captain Phillips
Paul Greengrass's frenetic direction and iconic you-are-there steady cam manage to create a palpably tense thriller based, of course, on the well-known real life experience of a boat highjacked by Somali pirates.  Despite the inevitability of its outcome, the film remains gripping throughout.  But what makes Captain Phillips so memorable is its final fifteen minutes when Tom Hanks allows us to see the emotional toll the titular captain's heroism takes on himself.  I can't remember a film that dismantled the mythos of the everyman hero with such pointed precision.  I'll never forget it.
6) Her
Leave it to Spike Jonze to take our societal love affair with technology and turn it into one of the most heartfelt romances I've seen in a long time.  Joaquin Pheonix does great work as usual, but the depth of feeling Jonze's script manages to mine is what truly impresses.  Scarlett Johannson uses her breathy articulation to perfection and imbues Samantha, the female operating system for which Theodore falls, with true pathos.  That the film manages to balance wry comedy with powerful contemplations on the very meaning of connection and love is what will linger with you long after the credits roll.
5) Gravity
This is the white-knuckle thrill ride of the year, a film that feels so relentlessly claustrophobic in the face of the infinite.  Sandra Bullock carries the bulk of it on her own, delivering an absolutely balletic performance both physically and emotionally.  While you can enjoy this simply as a film about being adrift in space, the subtext that emerges (about the price of redemption, the burden of humanity, and the possibility of rebirth) only enriches the experience.  The mostly-silent action sequences have a beautiful choreography, and the use of mind-boggling visual effects feels so authentic, you'll swear Cuaron shot the damn thing in space.  As for that sequence of Bullock spinning off into oblivion (as the camera catches it from her dizzying perspective)?  Absolutely chilling.  The entire enterprise is a stunner.
4) Frances Ha
Noah Baumbach's black-and-white indie about twentysomething angst and listlessness is the exact product Lena Dunham has been unsuccessfully trying to make for three years with her HBO series Girls.  Greta Gerwig lends her pen to the script (along with Baumbach), but it's her enchanting performance as Frances that reveals a seeming bottomless reservoir of charm.  We walk away from this movie thinking we're a little bit like Frances, but the truth is much more disappointing: so few of us have the courage to be her. Like Philomena, giving yourself over to Baumbach's film will reward you in unexpected ways.  If you're open to it, you'll find yourself in the company of the first film about millennials that neither judges nor criticizes.  I suppose it doesn't hurt that the humor, free of Baumbach's characteristic derision, will make you howl with laughter.  For me, this is the surprise film of the year.
3) 12 Years a Slave
Put simply, 12 Years a Slave does for slavery in cinema what Schindler's List did for the Holocaust.  As you might expect from director Steve McQueen, the film doesn't flinch from depicting the brutality Solomon Northup (and, by extension, all slaves) endured.  Breakout star Lupito Nyong'o stuns as Patsey, while Chiwetel Ejiofor manages to emote each blow to his dignity, each snuffed out spark of hope, each note of bitter resolve.  I've never been so deeply moved or so haunted by a performance.  Need evidence?  Northup joining his fellow slaves in a spiritual, as the camera holds on Ejiofor's face for several minutes, absolutely floored me.  It's hands-down my favorite five minute sequence I saw all year.  Because that's what makes this film so unshakeable: even subjected to acts of unthinkable cruelty, Northup clings desperately to hope and faith.  Let's put it this way: I sat, silently stunned, through the credits, unable to stand up.  That's powerful cinema.
2) Nebraska
Never before has a film spoken so poetically and truthfully on the relationship between father and son.  The film's setting feels perfect, with its wide-open and windswept prairies serving as the metaphor for the vast gulf that separates Bruce Dern's Woody Grant from his son, Will Forte's David.  At its core, this movie is nothing more than a road-trip, but Alexander Payne turns Woody's journey to Nebraska to claim a sweepstakes award into a visual poem.  I couldn't imagine watching this film in color; its muted black-and-white tone beautifully echoes the suppressed family dynamics and secrets, the tamped-down emotions, the reluctance to accept the inevitability of Woody's age and impending death.  It's sweet and funny and thoughtful and moving.  Oh, and June Squib (who, like Judi Dench, comments on her own female parts to hilarious effect) as Grant matriarch Kate proves that old women cursing and calling dead relatives sluts will never not be funny.  Can we please give her the Oscar on Sunday?  Please?
1) Inside Llewyn Davis
While I'm not quite over the Academy's summary dismissal of the Coen brothers' latest, I can concede that this film might not be for everyone.  But, as it reigns supreme on my list, it clearly speaks to me; I'd go so far as to label it the most fascinating and original film ever to tackle the grieving process.  Oscar Isaac is magnificent as the titular Llewyn Davis, a singer navigating the Greenwich Village folk scene in the early sixties after the suicide of his music partner.  Llewyn is trapped in a cycle of self-doubt and cynicism (implied through the film's perfectly rendered circular ending) as a direct result of his inability to come to terms with the death.  He is his own worst enemy, a man with an amazing voice and incredible talent unable to capitalize on either.  It's a brilliant character brilliantly rendered and brilliantly portrayed.  And that's to say nothing of the fantastic soundtrack (with which I am currently obsessed), the hilarious Coen-esque black comedy, or John Goodman as a heroin-obsessed jazz singer.  This is a film that I know will unfurl itself more with each subsequent viewing; I cannot wait to rewatch it, to dissect it, to lose myself in its myriad layers.  Very seldom does a film come along that so effortlessly blends pure entertainment with thought-provoking themes and intentional obtuseness, but this one does.  We're not just talking unequivocal Best Picture of the Year for me; we're talking one of my favorite films of all time.
Honorable Mentions: Wolf of Wall Street, Saving Mr. Banks, American Hustle, Dallas Buyers Club, Prisoners, The Act of Killing, Monsters University, Don Jon, Blackfish, This is the End, The World's End, The Conjuring, Evil Dead, Spring Breakers, Side Effects