In light of the horribly shocking news of beloved comedian Robin Williams taking his own life at the age of 63, many fans have been offering up their favorite performances of his over the years.  For millennials such as myself, Williams was a staple during my childhood and adolescent years:  Aladdin, Hook, Flubber, Jumanji, Jack, Dead Poet's Society, Mrs. Doubtfire, Bicentennial Man, and even Patch Adams hold particularly special places in my heart for that very reason.  As I grew older, titles like Death to Smoochy, One Hour Photo, What Dreams May Come, The Final Cut, World's Greatest Dad, The Fisher King, and Insomnia allowed me a peek into the darker places Williams dared to take his characters, whether dramatically or comedically.  And yet, while all of these–and more–stand out when I think fondly of Robin Williams's impact, two television performances of his continue to resonate with me, the two pieces of art that I find myself continuing to gravitate back toward.
If you'll permit, I'd like to share them with you now.
Homicide: Life on the Street — S02, E01: "Bop Gun"
Even if you've never seen an episode of this all-time great crime series (a progenitor of The Wire amongst many others), it should not stop you from seeking this installment out immediately.  Williams plays Robert Ellison, a tourist on vacation with his wife and two children–one of them played by a very young Jake Gyllenhaal–in Baltimore.  After getting turned around and winding up in one of the more unsavory sections of Charm City, Robert is utterly helpless as he watches his wife murdered in front of him.  For the remainder of the episode, while the police do their best to track down a killer and stave off the pressures from City Hall, more concerned about plummeting tourism than the loss of a wife and mother, we have an opportunity to zero in on the effects of grief on a shattered family.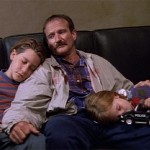 A truly unique concept for a crime series (particularly at the time of its original broadcast in 1994), "Bop Gun" became a powerhouse showcase for Robin Williams and earned him a Guest Actor in a Drama Series Emmy nomination that did not–of course!–convert into a win.  As he takes Robert through the myriad stages of grief while trying to balance the newly anointed role of single father, Williams probed depths of despair and sadness that–in light of the current news–must have been pulled from his own struggles.  It's a haunting performance, one of the best by a guest actor in a series that helped to pioneer brilliant guest performances, but more than that, it serves as a testament to Williams's profuse talents.  We may know him primarily as a deft whirligig of a comedian (more on that in a second), but his spellbinding performance in "Bop Gun" showed layers of such nuance that it became clear that we still hadn't seen all that Robin Williams had to offer.  Somehow, he still had tricks hidden up those sleeves.
Robin Williams: Live on Broadway
The first time I watched this mind-blowingly brilliant HBO stand-up special, I don't remember ever having laughed for such an uninterrupted period of time.  In truth, I haven't since.  Williams's madcap ribaldry came at such a frantic and relentless pace, my friend and I had to pause to catch our breath from laughing.  If we hadn't, our wheezing paroxysms of laughter would have drowned out a zippy one-liner or an off-the-cuff self-deprecating rejoinder.   The man was on fire, a routine that seemed so effortless and spontaneous that it could only be the work of a diligent, well-rehearsed professional.
My senior year of high school was a difficult time, but Live on Broadway genuinely shone a light into the dark period of my life.  Unabated, unapologetic laughter poured out of me as if to purge the negativity and sadness I'd been living with: a comedic exorcism.  As tears streamed down my face and Williams went off on Olympic sports ("The luge?  What f*****-up German gynecologist came up with this sport?"), religion ("But, for the Last Supper, would they have not gone out for Chinese?"), world issues ("Osama Bin Laden is a six foot  five Arab on dialysis.  What is so ******* hard to find?!?"), and celebrities ("Michael Jackson's claiming racism?  I'm like, 'Honey, you need to pick a race first.'"), I felt for the first time the truly healing nature of comedy.  For that, I'm truly grateful.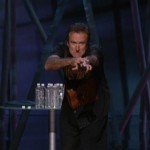 Even to this day, I find that snippets of Williams's routine have insinuated themselves into my day-to-day lexicon, and what does that indicate if not a gift given by a performer at the height of his power?  Nominated for five Emmys but–of course–winning none, Live on Broadway remains the gold standard for me.
Thank you, Robin Williams, for being so generous in sharing your profuse talent.  You helped me through my own depression at a time when I needed it; I only wish someone could have done for you what you so miraculously did for me.  Rest in peace.