I don't want to get maudlin or anything, but can you believe that this past summer, America's favorite television series, The Bachelorette, celebrated its eleventh birthday by giving us a gift: grown men lamenting the fact that certain contestants were — get ready for it — not on a reality dating show "for the right reasons."  Tears were spilled; latent misogynies were uncovered; uncomfortably frank discussions were held.  In short, season 11 of The Bachelorette proved the apex of the medium, so all other shows should fold up their tents and shuffle down the ol' dirt trail to TV oblivion.  Seriously, America, where else is there to go?  Also, the answer is to Chris Harrison's house because obviously.
But while we all recover from the mind-blowing brilliance of Kaitlyn's "journey to find love" (ha!  I typed that with a straight face, I swear), what do you say we carry on with #top20in20.  Shall we?  We shall!
#11: Bloodline
While critics and viewers alike laud the quality of Netflix dramas Daredevil (good but overrated), Jessica Jones (I'll get to it eventually), and House of Cards (running on fumes for a while now), they have no problem deriding this star-studded Southern gothic potboiler.  That backlash boggles my mind: this is the best Netflix drama out there.  From the creators of  Damages, Bloodline distinguishes itself from its predecessor by concentrating on character over plot, supplementing wtf-plot twists with genuine character-based surprises.
I won't spoil the story here, but suffice it to say that the slow unspooling of the Rayburn's family secrets makes for spellbinding television for those with a modicum of patience.  By the time you reach the pivotal final stretch of episodes, you won't believe you're watching the same show.  The opening episodes, languidly paced with deliberate intent, give way to heart-pounding suspense and gut-wrenching reveals.  You ever want to experience a show as you would a novel?  Well, good news: with Bloodline, you can.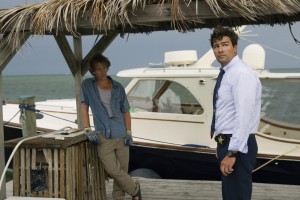 The cast is, in a word, incendiary.  Kyle Chandler, Norbert Leo Butz, and Linda Cardellini pin us to our seats, but Ben Mendelsohn as prodigal son and perennial screw-up Danny Rayburn — whose return to the family's Florida Keys hotel lights the fuse of the slow-burning but crackerjack plot — absolutely explodes off the screen.  His is a performance that should have swept the awards season; if more people had given the show a chance, he likely would have.
From the stunning Floridian locale (treated throughout with the respect of a well-drawn character) to the dynamite performances and gripping story, Bloodline commands your attention and rewards it in huge and surprising ways.  Don't miss it.
Tomorrow's the big day, folks: cracking into the top ten!  Any thoughts on what might kick off the second half of my list?  Thanks for playing along so far!