Wait a minute, you didn't think I forgot about our little arrangement, did you?  I know it's after 9 pm on a Monday, and we're halfway through an episode of The Bachelor that already included Chris Harrison in soccer shorts, but without priorities in life, where would we be?  Probably playing a soccer game overseen by Chris Harrison, actually…
#6: The Americans
Few shows manage to quicken your pulse while simultaneously engaging your intellect and judo-chopping you directly in the feels, but FX's The Americans pulls off that balancing act with each and every episode.  Its third season might be its best yet as Jennings daughter Paige becomes increasingly savvy to Elizabeth and Phillip's clandestine goings-on, culminating in one of the year's ultimate OMG moments that guarantees to change everything moving forward.
In most cases, a spy drama would find itself relegated to "genre" television, but The Americans is no typical series.  The further we get into this thing, I'm damned certain it will take on the scope of a great Shakespearean tragedy.  For a show that dwells in morality's grey area as often and with as much success, the impending tragedy is all but certain.  The tension, masterful  in its execution, is simply a matter of how long these Soviet spies can stave off that inevitability.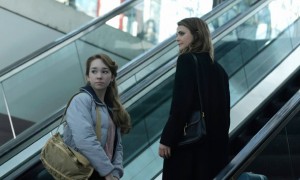 Keri Russell and Matthew Rhys as the Jennings matriarch and patriarch deliver flawless performances.  It takes a true actor or actress to convince us of the level of deception required in order to make this show work, but Russell and Rhys accept that challenge and better it.  Their work has always been and continues to be balletic in every sense of the word: we don't doubt for a second that they're committed Soviet spies, nor do we question the familial ties tethering them to America.  Brilliant work.  Toss in great supporting work from Frank Langella as handler Gabriel, Noah Emmerich as tenacious FBI agent and Jennings neighbor Stan Beeman, and Alison Wright as the beleaguered wife of Phillip's undercover identity "Clark," and you have a cast difficult to beat.
The Americans proves that dramatic television need not pander to generate genuine thrills because it understands something so few shows do: it treats its central conceit as metaphor.  Sure, we're interested in the notion of Soviet sleeper cells in 1980s America, but we stick around for the powerful meditations on family, loyalty, dedication, and identity.  It's a parable, an allegory, and a testament to the power of character-driven storytelling.  For true TV lovers, it's also must-watch television.
We're about to crack the top five!  Come on back tomorrow to see the next entry in #top20in20.