Can you feel the anticipation crackling in the air?  That's what happens when bronze medals are on the verge — nay, the precipice — of distribution.
Let me say that the three final shows that top this list are separated only by the slightest of margins, and those margins come down to my personal taste.  The quality of all three is, to my mind, unimpeachable, so you might quibble with my ordering here even more than before, but we'll get through this.  I believe in the strength of our relationship, tbh.
Anyhow, here we go: the bronze medal winner of my #top20in20 list goes to…
#3: The Leftovers
Let me begin by saying that season one of this HBO series was not my favorite.  I appreciated what Damon Lindelof and Tom Perrotta were going for in their adaptation of Perrotta's novel  — namely, a  riff on loss and the process of letting go — but the trail they blazed did not grab me.  It seemed self-indulgent in its intentional obtuseness, the symbolism evoking a sense of wtf-ery without any kind of payoff or falling flat in its clumsy execution (that damn bagel, for instance).  When the season ended, I did not intend to pick it up again.
I provide this context to convey to you how much the show's second season improved over the first, and to assure you that I've never been happier to be wrong about a show than I am about The Leftovers.  Transplanting the cast to Miracle and pitting the Garveys against the Murphys gave us a narrative throughline we desperately needed.  But that's not to say the plot momentum eclipsed the weird symbolism; instead, it gave it context and meaning while still managing to confound us initially (oh, hey there, dude slaughtering goats in family restaurants).  Even the season-opening cavewoman vignette linked to the season's overarching themes.  I was equally entranced, confused, and excited by each episode — and, just like that, The Leftovers became appointment television and the series I had always hoped it would be.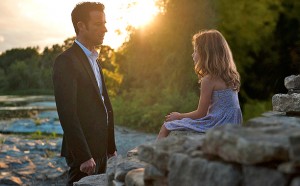 There was so much to sink our teeth into this year, from the excellent acting by Justin Theroux, Carrie Coon, Ann Dowd, Regina King, Kevin Carroll, Christopher Eccleston, and the rest of the cast to the utter unpredictability of the unfolding story. Speaking of the latter, I would be remiss not to mention my single favorite episode of 2015: "International Assassin." I refuse to spoil it here, but suffice it to say that I don't think anyone watching could have predicted that, given the way the previous episode ended, the story would go where it did, but somehow what transpired made perfect sense. Such is the power of The Leftovers when it fires on all cylinders, which it did consistently for ten brilliant episodes.
If "International Assassin" marks my favorite episode of the year, then the season finale "I Live Here Now" captures my favorite scene of the year: Kevin Garvey's emotionally fraught and off-key karaoke rendition of Simon and Garfunkel's "Homeward Bound."  Shot in extreme close-up to achieve a rawness and authenticity of emotion, this scene continues to haunt me.  If you didn't choke up, then you — sir or madam — are heartless.  Theroux deserves an Emmy nod (actually, a win) for that three minutes alone.
I don't think this season of The Leftovers will ever leave me.  It has, with its gut-punching pathos, mystical imagery, and haunting meditations on the power of loss, left an indelible mark.  These ten episodes challenged us, provoked us, and moved us in profound and unexpected ways as only the best art can hope to.
Silver coming up tomorrow!  Hurray!  Any thoughts?