Ho, ho, ho!  After a two-month long hibernation, I am here to bestow upon you an early Christmas present.  I don't want to make a big deal out of my glorious return or anything, but I'm pretty much the television blogger's Santa Claus, except I won't break into your house in the dead of night to reward you with presents for being good all year…Wait a minute, you guys, is Santa Claus a sociopath?
Either way, 'tis the season, ladies and gentlemen, and you know what that means: walking past Salvation Army Santas while you pretend to take a call on your cell phone.  But you know what else it means? Christmas themed episodes!  As our favorite shows sign off temporarily for a several week winter hiatus, they like to leave behind a little something to keep us warm and cozy all through the night.  I've listed five of my all-time favorite Christmas-themed episodes in alphabetical order below, installments that never cease to get me in the spirit.  Very few–if any–of these would end up other critics' similarly compiled lists, but for those of us looking for a less conventional yuletide diversion, look no further.
Arrested Development, "Afternoon Delight"
Yes, the episode's title is a direct reference to the Starland song, and yes, Michael Bluth and Maeby sing it during an office Christmas party karaoke session.   But uncle and niece accidentally crooning the classic sex ballad to one another is just the tip of the festive iceberg.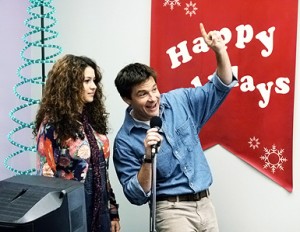 Because, after all, what's better than one Christmas party?  Two Christmas parties, duh.  And that one's a doozy: Lucille–having accidentally imbibed Oscar's "Afternoon Deelite"–mows down her son-in-law Tobias (who earlier "blue" himself in the hopes of getting a call from the Blue Man Group) and Buster drops a banana-suit wearing G.O.B. from a crane.  I love how this episode uses the Christmas holiday to reveal the not-so-wholesome side to the Bluth clan, resulting in a hilarious twenty-three minutes.
Homicide: Life on the Street, "All Through the House"
In typical Homicide fashion, this third season episode manages to walk a tonal tightrope: this time, one that is equal parts melancholy and hope as the detectives find themselves on night duty on Christmas Eve.  Munch and Bolander investigate the murder of a man in a Santa suit, leading Munch to spend the evening with the little boy they presume is the victim's son.  Felton buys his children Christmas presents despite not knowing where his ex-wife has absconded to with them, and Bayliss, ever the romantic, wanders through the squad room looking for someone to play hearts with him. #metaphor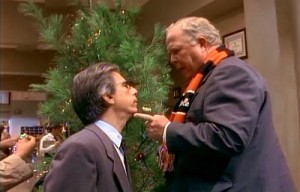 But it's the episode's insistence on humor and pathos in the face of such grimness that makes this such a great installment.  The detectives take turns criticizing the decoration of the tree in the precinct before launching into an impromptu snowball fight as Christmas day breaks across Baltimore, and Pembleton manages to summarize the meaning of the holiday in his typically curmudgeonly style, none too happy to be on duty: "I miss my wife.  I miss my fireplace.  I miss Nat King Cole."  It's brilliant; it's sad; it's funny; it's Homicide refusing to cave to conventions while still remaining true to the spirit of the season.
It's Always Sunny in Philadelphia, "A Very Sunny Christmas"
Mac and Charlie delve into the origins of their holiday traditions to discover that most of them are entrenched in illegal and/or duplicitous activity.  Don't let the chipper time of year fool you; this episode is still Sunny at its misanthropic best as the gang tries to dole out heaping spoonfuls of Christmas cheer as only they can, including but not limited to drunken caroling and chucking rocks at passing trains.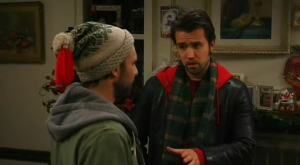 Oh, and you'll see one of the funniest sight gags the show's ever done as Frank's humiliation reaches new lows:  in a room full of people celebrating the holiday, he crawls naked from the couch he's been hiding in to eavesdrop.  This might make me the worst person ever, but this Sunny is a must-watch staple to warm me every December.
The League of Gentlemen, "Christmas Special"
League of Gentlemen certainly qualifies as the most esoteric show on this list, so unless you've seen the show and are familiar with its zany characters, it will mean very little to you if I were to expound on how the League uses the expanded running time to delve more deeply into fan favorite characters like the world's most unfortunate vet Dr. Chinnery, the alcohol-swilling Reverend Bernice, and the awkward innuendo machine that is Herr Lipp.  Still, you can appreciate how the show's portmanteau approach feels like the most warped riff on a Dickensian Christmas story that you'll ever see, hear, or read, from the detail-rich sets to the smallest prop.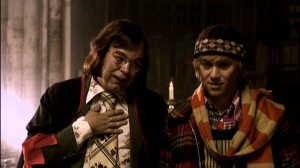 As with all work from the League (which includes Mycroft Holmes and Sherlock co-creator Mark Gatiss himself), the mix of comedy and horror may not be for all tastes, but if you're up for a bizarre breed of British humor with a generous sprinkle of Dickens thrown in, check it out.  Also featuring the most hilariously terrifying vision of a hooded figure streaking across the sky shouting, "Merry Christmas."  And to all a goodnight!
The Office (UK), "Christmas Special"
Of all the episodes on this list, this one will leave you with the warm-and-fuzzies like no other.  Also serving as the finale of this brilliant series from Ricky Gervais and Stephen Merchant, this episode touches us so deeply because of the emotional payoff that results.  We've been following cringeworthy David Brent for two series' worth of awkward moments, so he–and the audience–has earned the right to redeem himself after the documentary has made him out to seem like a real jerk.  Gervais slays it in his performance, and we're rooting for Brent even as we're snickering at him for producing that music video of his Simply Red cover, "If You Don't Know Me By Now."  One word: doves.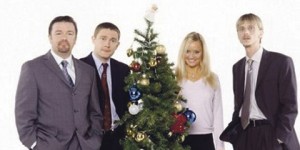 But the sweetest and best–not to mention most inevitable–result goes down like a comforting mug of cocoa. Tim's gift of an art set to Dawn, fresh off her boyfriend crushing her dreams of illustrating, provides the perfect Christmas message: never give up.  The result of this realization is one of the iconic moments of modern television and will leave you smiling from ear to ear and your heart swelling with joy.  Now, if you'll excuse me, I'm going to go re-watch this episode for the dozenth time.
Did any of your favorites not end up on my nice list?  Sound off in the comments!