Was it just me or did you also hear the sound of a distant blood-curdling scream this morning at about 8:30?  Because if you did, don't be alarmed; it was just the collective howl of snubbed actors and actresses not hearing their names called during the announcement of the 2015 Golden Globes nominations.  As we know all too well, it wouldn't be an awards show without our requisite griping about snubs–and there's plenty to bemoan–but the Hollywood Foreign Press Association had a few tricks up its sleeves this year, particularly on the television side of things*.  Big shows found themselves shut out entirely, while a crop of newbies snuck their way into Hollywood's drunkest awards night!  Good for you newbies!
*Full disclosure: currently, I'm woefully behind on the film nominees, so I'm not going to speak to those at this time, save for this little truth bomb: the overall slighting of Whiplash (save for JK Simmons's Best Supporting Actor nod) is absurd.
Life lessons can come from the darnedest places, and wouldn't you know that I found five of them just perusing through the nominees?  Well, enough of this prefatory nonsense!  Let's get to the good stuff.
Life Lesson #1: You Will Be Punished For Success
Brooklyn Nine-Nine.  Andy Samberg.  Amy Poehler.  These three defending Golden Globes champs didn't even earn a token nomination this year, and Amy Poehler is co-hosting this damn event.  Fear not, though! Jon Voight–whose skin-crawling performance in Ray Donovan already deprived Josh Charles of his deserved trophy for his turn in The Good Wife last year–heard his name called again this time around because, basically, life is meaningless and empty.  #putitonachristmascard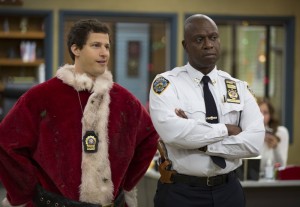 Still, the HFPA didn't hold back here and, in direct opposition with the spirit of the season, instead wants to tell us that, sure, being good might tickle Santa's Christmas pickle, but pride also cometh before the fall.  Once you've reached the top, there's only one place to go, so  instead, let's strive for mediocrity.  Hey, it's been working out swell for House of Cards so far!  Insert Miles Teller Whiplash** style rimshot here.
**No, I most certainly will not let it go.  I'm sorry I'm not sorry.
Life Lesson #2: Your Friends Will Turn On You Viciously and All At Once When You Least Expect It
Look, I've come down with a chronic case of Modern Family fatigue just like the rest of you.  I still love the show, but does it need the ubiquitous–not to mention uninterrupted–onslaught of trophies it's been raking in for five years?  Definitely not, but damn this thing escalated quickly!  After a plethora of SAG nods yesterday, the HFPA straight up bulldozed Modern Family and shut the show out entirely like a bully locking some dweeb in the janitor's closet.    That'll give Manny something to think about on his evening constitutional, that's for sure.

The same shutout happened to The Big Bang Theory, for what it's worth, but if the critical love for that lowest-common-denominator show has reached its expiration date, then I won't complain.
Either way, the message is clear, ladies and gentlemen: don't have any confidence in those who claim to support you as your friends because, sooner rather than later, they will drop you like sack of sprouted potatoes and run to the newest, hottest thing around.  Friendship is dead.  Thanks, Golden Globes!
Life Lesson #3: The Squeaky Wheel Gets Sh*t Done
Girls has never capitalized on its promise since its successful inaugural season.  Sure, the third made a significant improvement over the virtually-unwatchable second, but that doesn't mean it's anywhere near the quality of fellow nominees Orange Is the New Black, Silicon Valley, or Transparent.  Hell, from what I'm reading about newcomer Jane the Virgin*** it can't hold a candle to that show, either, though I've never seen it.  That's to say nothing of the fact that it is touted as superior in quality to Louie, Veep, Parks and Rec, and Brooklyn Nine-Nine, which of course it isn't.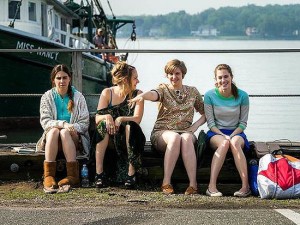 ***See what I did there? #innuendo
But then in nominating the series and Lena Dunham (but not the show's biggest talent, Adam Driver), it's clear that Dunham's polarizing presence, and not the show itself, snagged the nods.  She's everywhere, she's controversial, and everyone knows her name.  Neither Dunham nor the show are remotely deserving, but the HFPA has taught us something important: recognition evades the timid.  Be loud and be proud; even if you're not deserving of accolades, they will shower you just because everyone in the room can hear you.
Life Lesson #4: Don't Try To Be Someone You're Not
We know it and the HFPA knows it: if the Oscars are your stuffy, pretentious uncle, then the Globes translate to your wild, hard-partying cousin.  In fact, the one reason I enjoy the Globes so much is because of its comparative looseness: it nominates the newbies, it celebrates the less conventional, and it doesn't take itself too seriously.
But then it goes and nominates undeserving shows like Downton's lackluster fourth season or House of Cards's deadeningly repetitive second because they seem like more "prestigious" fare?  Puh-lease.  House of Cards isn't even one of Netflix's five best shows, let alone in the upper echelon of all of TV.  If you're going to celebrate a major drama, how about The Americans?  Hello?  Anybody?  Where'd you guys go?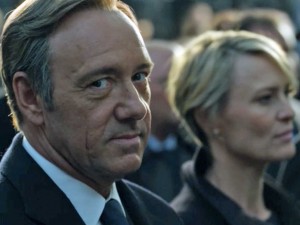 Stick with your guns, Globes, and honor shows like the surprisingly excellent The Affair!  Is it one of the best shows on television?  No, but who cares?  That's what you do!  You do weird stuff because you want to flout convention!  That's why we love you.  Don't turn this into the Emmys.  DON'T. YOU. DARE. #emptythreat #notanemptythreat
We roll our eyes at the inclusion of these nominees because it's so out of character for our drunken cousin to rely on business as usual; the Globes are here to shake things up, so learn from the mistake: don't try to be someone you're not.  If you're a Golden Globe, then don't try to convince anyone you're an Emmy, and vice versa.  It's just sad.
Life Lesson #5: Don't Be Afraid To Tell It Like It Is
"No, you sit down and hesh up, True Detective!"  the HFPA shouted over the din.  "You are a mini-series, and that's that!  Yeah, deal with it!  What was that, McConaughey?  I'll tell you where to stick that flat circle!"  This is how I'd like to imagine this is all went down as the Globes set people straight following the bizarre Emmy nominee assignations earlier this year.  Now, if only they could do something about those catch-all Supporting Actor/Actress in a Series, Mini-Series, TV Movie, Home Video, Vine Compilation categories.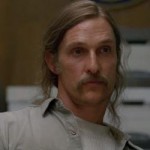 Don't let the bullies of the world knock you around is the lesson here!    When you're right, speak your mind!  Fight the power!
Well, that's what I learned.  Did I miss any crucial life lessons?  Let me know, and remember to tune in to the Golden Globes on Sunday, January 11th at 8pm on NBC!